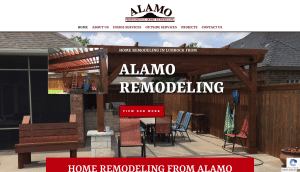 Welcome to our blog post about Alamo Remodeling, a home remodeling company based in Lubbock, Texas. In today's digital age, having a strong online presence is essential for any business, and Alamo Remodeling recognized this need. After years of relying on word-of-mouth referrals, they decided to take the plunge and build a website. In this post, we'll take you through Your Web Pro LLC process of building a website for a remodeling company in Lubbock. We'll cover everything from choosing a domain name to creating compelling content that showcases Alamo Remodeling's services. So, grab a cup of coffee and let's dive in!
Benefits of Your Web Pro LLC for a Remodeling Company
A well-designed website can make a big difference, especially for a remodeling company. Not only does it showcase a company's portfolio and highlight their best work, but it also attracts potential clients who are searching for their services. With the competitive nature of the remodeling industry, being able to stand out online can make or break a company's success. By creating a user-friendly interface, adding high-quality images of past projects, and including customer reviews and testimonials, a remodeling company can ensure that their website is both visually appealing and informative. With more and more consumers using the internet to research and choose service providers, investing in a well-designed website is essential for any remodeling company looking to grow their business.
Investing in a user-friendly website can improve the customer experience, making it easier for clients to learn about the company, its services, and its pricing. This is especially important for businesses that offer services such as kitchen remodeling. A well-designed website can showcase before and after photos of successful projects, feature testimonials from satisfied clients, and provide detailed information about the process of working with the company. Additionally, a user-friendly layout can make it easy for potential clients to request a quote or schedule a consultation right from the website. By investing in a well-designed website, businesses can make it simple for clients to learn about their services, which can lead to increased inquiries and conversions.
Thus, a responsive website design is critical for any remodeling company seeking to maximize their online presence. Not only does it make navigation and access much easier across all devices, but it also enhances the user experience as a whole. When customers have an enjoyable and efficient web experience, they are more likely to recommend your services or purchase products from you. Therefore, investing in an optimized website design is key for the success of your business.
Finding the Right Web Design Company for Your Home Remodeling Needs
If you are in the market for hiring home renovation contractors, it is critical that you first review the company's portfolio and client testimonials. This will help you to gauge their experience and expertise in the field, and ensure that they will be able to deliver the results you are looking for. When it comes to website design, the same principles apply. You should always take a close look at a company's past work and what their clients have to say about their services. This will help you to choose a design firm that has a track record of success and will be able to deliver a website that meets your unique needs and requirements.
Determine your requirements and set a budget before searching for a web design company, it's similar to kitchen remodeling, you need to know what you want and how much you can spend before you start looking for contractors. When it comes to website design, having a clear understanding of what features you need and how much you can afford to spend will save you time and money in the long run. A good web design company will work with your budget and requirements to create a website that not only meets your needs but also aligns with your brand's message. Don't make the mistake of jumping into a project blindly, do your research, set a budget and communicate your requirements to the designer so they can work their magic within your guidelines.
Furthermore, when selecting a web design company for a home remodeling, it is important to consider factors like communication, project management approach and post-launch support. All of these factors should be thoroughly communicated with the company before taking any decisions. A good web design firm will be able to provide all of these and ensure a successful outcome for the site's launch.
Establishing Clear Goals for Your Home Remodeling Website
Before diving into the design process for your Alamo Remodeling website, it's important to establish clear goals for it. This will ensure that the design is tailored to meet your specific requirements and objectives in mind. Understand what elements of website design are most important for your business, and then consider the overall look and feel you want to achieve. You'll also need to think about how to organize the content on your site, as well as your site's navigation. When you work with a professional web designer, they will take all of these factors into consideration as they create a website that reflects your business's unique personality and meets its specific needs. By being clear about what you want your site to achieve early on, you can save time and money, while also ensuring that the end product is everything you hoped it would be.
Similarly, when it comes to home remodeling websites, the goal should always be to showcase your portfolio of work in a clear and aesthetically pleasing way. This is important to give potential clients a real understanding of your style and capabilities; giving them an idea of what you can offer, thus helping to build trust and credibility.