In today's digital age, having a well-designed and functional website is essential for any business to thrive. Bucky's Vapes and More, a leading retailer of vaping products and accessories, recognized the need to establish a strong online presence. They turned to Your Web Pro LLC, a renowned web development company, to create a new website that would elevate their brand and improve the online shopping experience for their customers. In this blog post, we will delve into the collaboration between Bucky's Vapes and More and Your Web Pro LLC, highlighting the transformative process and the outstanding results achieved.
Designing an Engaging User Experience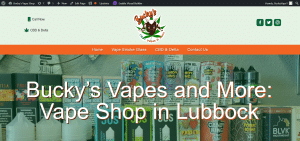 Understanding the unique requirements and preferences of Bucky's Vapes and More, Your Web Pro LLC embarked on creating a website that would captivate visitors and make their online shopping experience seamless. The design team at Your Web Pro LLC worked closely with Bucky's Vapes and More to incorporate their brand identity into the website, utilizing the company's logo and colors to create a cohesive and visually appealing interface.
Mobile-Optimized Responsiveness
Recognizing the increasing prevalence of mobile devices for online browsing and shopping, Your Web Pro LLC ensured that the new website for Bucky's Vapes and More was fully optimized for mobile responsiveness. The design team employed a responsive design approach, ensuring that the website would adapt seamlessly to different screen sizes and resolutions. This optimization allowed customers to access the website conveniently from their smartphones or tablets, enhancing their overall experience and expanding Bucky's Vapes and More's reach.
Thanks to the collaborative efforts between Bucky's Vapes and More and Your Web Pro LLC, the vaping retailer now boasts a stunning new website that aligns with their brand image and delivers an exceptional online shopping experience. The strategic design choices, enhanced functionality, and mobile optimization have elevated Bucky's Vapes and More's online presence, making it easier for customers to explore their vast product range.
Your Web Pro LLC's expertise in web development and commitment to client satisfaction have once again been demonstrated through this successful project. If you're looking to transform your business's online presence, Your Web Pro LLC is the go-to partner for professional web development services.