In today's digital age, having a strong online presence is crucial for any business. Whether you're a small local business or a large corporation, having a well-designed and user-friendly website can make a significant difference in attracting new customers and retaining existing ones. That is exactly what Your Web Pro LLC aimed to achieve while building a website for Shannon Beeles Insurance.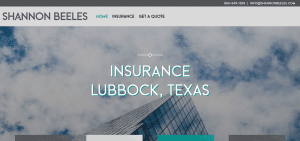 Shannon Beeles Insurance is a well-established insurance agency that has been providing top-notch insurance solutions to its clients for years. However, they realized the need to upgrade their online presence to cater to the changing needs of their customers and stay ahead of their competitors. That's when they turned to Your Web Pro LLC, a reputable web design and development company known for its expertise in creating engaging and functional websites.
Understanding the unique requirements and goals of Shannon Beeles Insurance, Your Web Pro LLC embarked on a journey to build a website that would not only convey the professionalism and expertise of the agency but also provide a seamless user experience for visitors. Here are some of the key elements that were incorporated into the website:
1. Refreshing Design: Your Web Pro LLC began by revamping the visual appeal of the website. They understood the importance of a modern and visually pleasing design in capturing the attention of potential customers. The new website features a clean and professional layout with a user-friendly interface, making it easy for visitors to navigate and find the information they need.
2. Intuitive Navigation: The team at Your Web Pro LLC focused on creating a website that would be easy to navigate, ensuring that visitors could quickly find the information they were looking for. They implemented a logical menu structure and incorporated search functionality, allowing visitors to easily browse through different sections of the website. By strategically placing navigation menus and organizing content, Your Web Pro LLC ensured that users could seamlessly navigate through Shannon Beeles Insurance's services, coverage options, and other relevant information.