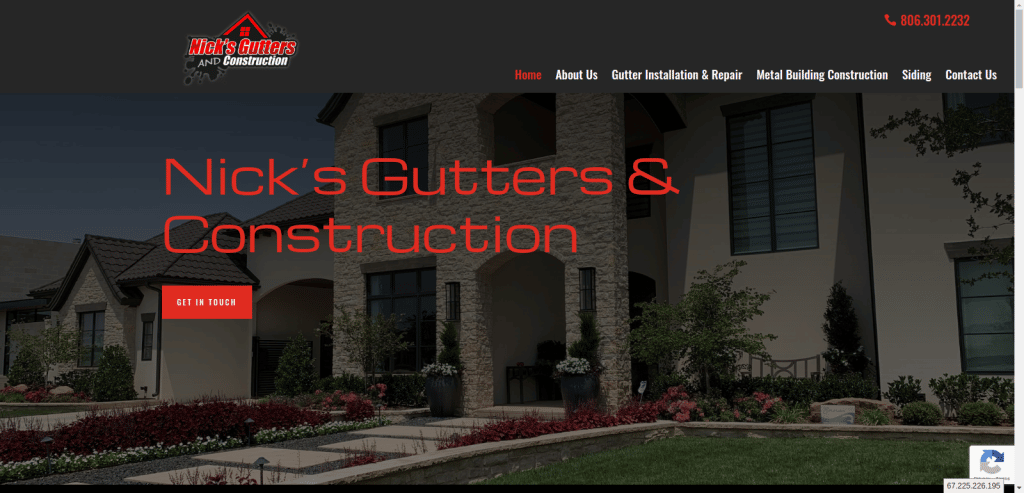 Nick's Gutters and Construction came to us in need of a new website. Not only had their company changed to provide additional services like metal building construction, but they had also needed to reflect their updated branding and name. Our team of Lubbock web designers worked with the marketing director for Nick's Gutters and Construction to build a new website highlighting these key elements and giving them a new platform to grow in the coming years.
Building a construction company website design is a great way to showcase your business and make it easier for customers to find you. But it's not always easy to know where to start.
Designing Your Website for Your Construction Company
Your website should focus on showcasing the services that your construction company offers. That's why partnering with a reputable website design firm such as Your Web Pro LLC is so important. We specialize in creating beautiful, user-friendly websites that will make your business stand out from the competition. Plus, we have the experience and expertise to ensure that your website is optimized for mobile devices and is SEO friendly. You'll be able to trust that Your Web Pro LLC will have the perfect ideas for your construction company website design.
One of those ideas is to make it easy for customers to contact you. We suggest you set up a contact page on your website. Adding an email address and phone number that customers and prospects can use to easily connect with you from any page as well. Not only will this make it easier for them to get the answers they need in a timely manner – it's also a great way for you to start building customer relationships and making sure their satisfaction remains intact.
Optimizing the Use of SEO Strategies For Maximum Visibility
Using keywords strategically throughout your website can help you gain visibility in search engine results. This can be especially useful for construction companies looking to make their mark in a competitive market. When designing a website for a construction company, it's important to include relevant keywords in the site content, such as "construction company," "building projects," or "renovation services." Additionally, incorporating these keywords into page titles and meta descriptions can help search engines more easily recognize your website and rank it higher in results. By utilizing the right keywords in the right places, your construction company can have a successful website that stands out above the competition.
Optimizing your website for mobile use can also help to increase traffic and engagement for visitors on the go. If you're running a construction company website, be sure to design a website that is user-friendly and works well on both desktop and mobile devices. Not only will this make it easier for potential customers to view your services and contact you for a quote, but it will also make for a better overall user experience. Additionally, by making your website mobile-friendly, you'll be able to reach more potential customers, since mobile device use is on the rise and more people are using it to browse the web.