In this day and age, having a website is a must for any business. But what is web hosting and why do you need it? Web hosting is the service that provides you with the physical space, bandwidth, and resources your website needs to be accessible online. But why is website hosting so important, and how can you find the best provider for your needs? Read on to find out!
What is Web Hosting?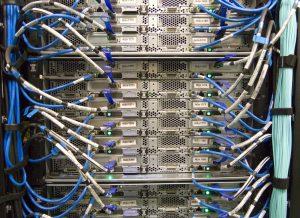 Web hosting is the service of providing storage space and access to websites on the internet. For businesses in Lubbock, TX, a web hosting company is an essential asset for their online presence. Our Lubbock web hosting company can provide visibility for your brand, help to deliver a high-speed experience for your customers, and provide a secure platform to store your data. In addition, a hosting company can also provide technical support when you need it. Finding the right web hosting service can be a daunting task, but with the right research, you can find the perfect hosting company in Lubbock to meet your business needs.
Hosting involves providing a server, software, and bandwidth necessary to host a website or web application. Hosting is an integral part of online success, and it's important to find a reliable web hosting provider to ensure a smooth experience. They should also provide access to security and maintenance options, making sure your website is safe and up to date. Finding the right web hosting provider can be crucial to the success of your business, so it's important to do your research and find one that is reliable and trustworthy – not necessarily one that is chosen on a low price point alone.
Since web hosting is a fundamental element of web development getting the right web hosting provider is important for online success. Web hosting services range from shared to dedicated options and finding the right one for your website will depend on your website's needs. Having the right hosting option can make all the difference in terms of user experience, scalability, data security and more so you should always research to make sure you select a reliable and suitable provider.
Common Types of Website Hosting
Shared hosting is one of the most popular and cost-effective types of website hosting, where multiple websites are hosted on a single server. This is great for businesses or individuals just getting started with their online presence and wanting to save money. It's also a great option for Lubbock small businesses, as it can offer a variety of hosting solutions in one package. Plus, the server is maintained by the hosting company, making it easier for customers to manage their websites, domains and other hosting-related tasks without the overhead of running a full server themselves.
Dedicated hosting is ideal for large businesses that need their own server and resources, as they have complete control over the server and its management. If you're a growing business in Lubbock looking for website hosting, dedicated hosting is a great option. You'll have the flexibility to customize your hosting package, so that you can get exactly the amount of resources you need. Plus, you'll be able to make sure your data is secure and your website runs smoothly. With dedicated hosting, you can rest assured that your website is hosted in a reliable and secure environment that can continue to grow with you.
Your Web Pro LLC's website hosting in Lubbock is now focusing more on cloud hosting due to its many benefits. It offers scalability and reliability that other services cannot match and can be substantially more cost-effective. As a result, cloud hosting is becoming an increasingly popular option for those looking for reliable website hosting in Lubbock. This is a great option when you outgrown shared hosting, but are not ready to run a full dedicated server yet.